Bacon-Mushroom-Swiss Burger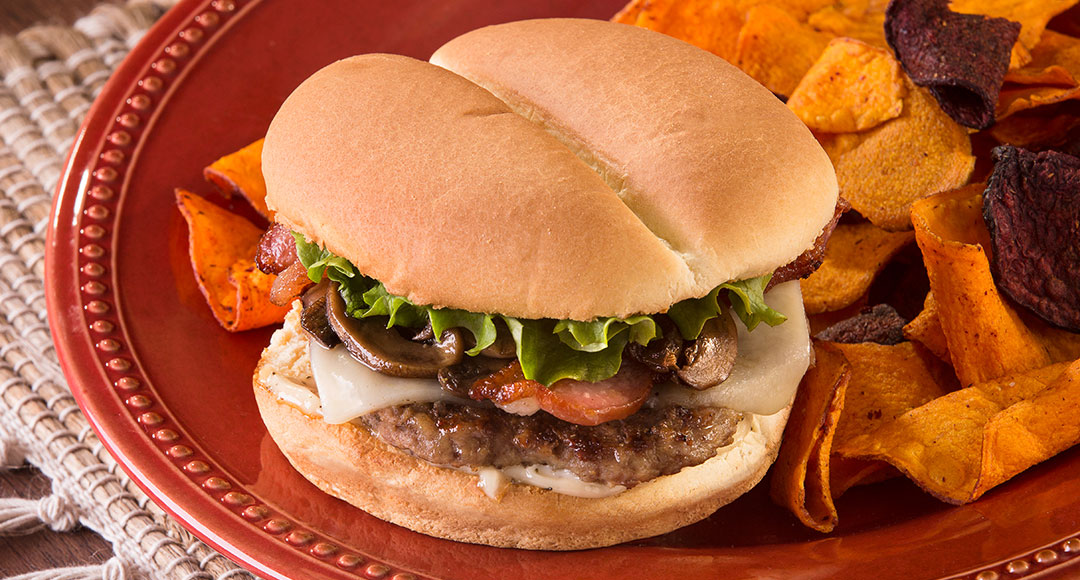 Basic gets a boost when you pair Ball Park® Brand Flame-Grilled Beef Patties with crisp, smoky bacon, earthy mushrooms and melty Swiss cheese. The herbed mayonnaise adds instant sophistication, and toasting the burger buns gives an extra layer of texture. Sweet potato fries or chips go great with this hamburger recipe.
Tip: Herbes de Provence is a French-style blend of rosemary, thyme, oregano, savory and other herbs. You can mix it up by using dried Italian herbs or just go with your fave, whether that's dried basil, chives or parsley.
Ingredients
8 Ball Park® Tailgaters Gourmet Buns
8 Ball Park® Brand Flame-Grilled Beef Patties
1/2 pound thick-cut smoked bacon
1/2 pound button mushrooms, sliced
1 tablespoon soy sauce
16 slices Swiss cheese
2 pounds lean ground beef
2 teaspoons garlic granules
Salt and pepper to taste
1/2 cup mayonnaise
3 tablespoons herbes de Provence
2 teaspoons Worcestershire sauce
1 teaspoon lemon juice
Burger trimmings as desired, including lettuce, tomato, onion and pickles
Instructions
To prepare herbed mayo: In a medium bowl, combine mayonnaise, dried herbs, Worcestershire sauce and lemon juice, mixing well. Cover and refrigerate.
Cut each strip of bacon in half and cook in a skillet over medium heat until crisp.
Remove and drain on paper towels. Pour off all but 1 tablespoon bacon drippings from the pan.
Add mushroom slices and soy sauce to the pan.
Over medium heat, sauté mushrooms until browned and soft, about 5 to 10 minutes. Drain on paper towels.
To prepare burgers, warm frozen patties over medium heat (6-8 minutes on the grill or 8-10 on the stove) or until hot, turning occasionally. For refrigerated patties, reduce time by half.
During last 2 minutes of cooking, top with cheese and cover to melt cheese.
Meanwhile, heat oven to 400 degrees, arrange hamburger buns on a foil-lined cookie sheet and lightly toast hamburger buns in the oven on each side.
When toasted, remove buns to serving plates and spread some of the herbed mayonnaise on each bun.
To serve, put cheese-topped patties on each bun, add desired hamburger trimmings, finish with the top bun and enjoy.