Egg, Sausage and Cheese Breakfast Sandwich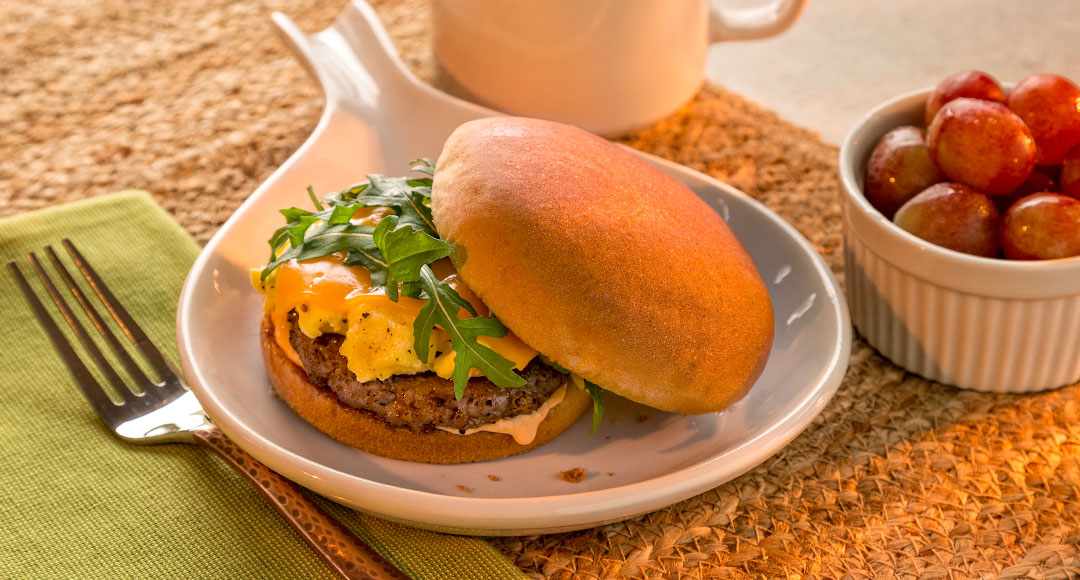 Breakfast in a hamburger bun? Why not! This recipe has all the usual suspects – eggs, sausage, cheese – plus a little spice to kick your morning into high gear.
Ingredients
4 Ball Park® Hamburger Buns
1 tablespoon olive oil
8 eggs
4 sausage patties
4 slices of Cheddar cheese
1 cup arugula, divided evenly into four servings
½ cup mayonnaise
1 teaspoon Sriracha sauce (or to taste)
Instructions
Preheat oven to 425 degrees and toast until golden brown.
Cook sausage patties in a skillet over medium heat until brown.
While preparing sausage, whisk the eggs together in a bowl and season with salt and pepper.
In a clean saute pan add 1 tablespoon of olive oil and scramble the eggs till cooked throughout.
Combine Sriracha sauce and mayonnaise and spread on each side of the buns.
Place a sausage patty onto the four bottom buns. For each sandwich, top sausage with eggs, cheese and arugula.
Serve while warm.