Grilled Brats with Quick-Cooked Cabbage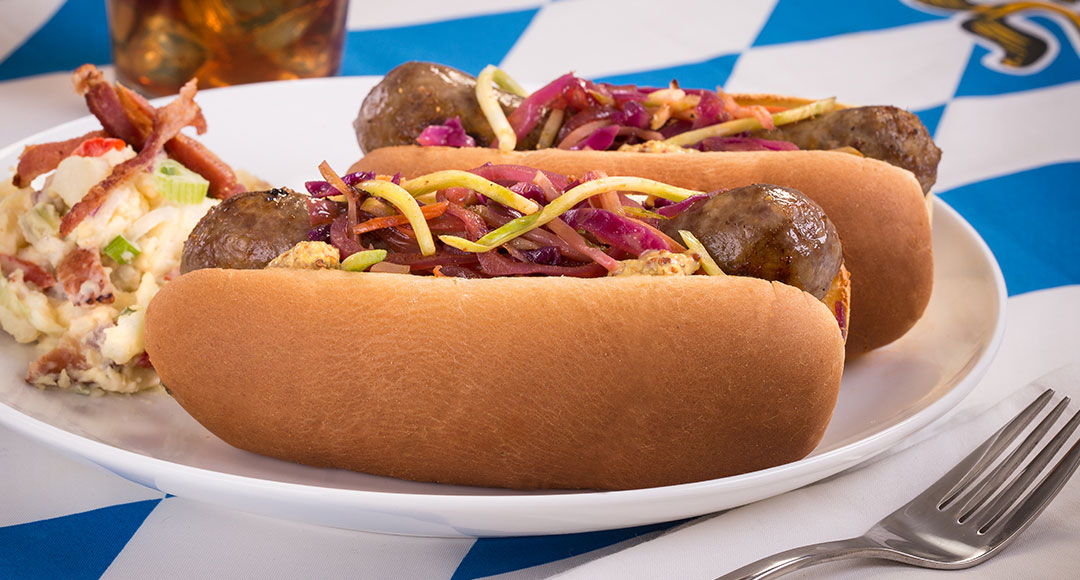 In German cuisine, bratwursts typically come with sauerkraut or red cabbage. We say, why choose? Perfect for our Tailgaters Brat Buns, this recipe combines those ideas, with a tangy-tart braised cabbage that cooks in just a few moments. Cooking the brats with a combination of water and beer, if desired, infuses the sausages with even more flavor. Serve with German mustard and German potato salad on the side.
Tip: If you can find a prepackaged blend of raw red and green cabbage with carrots, that's an ideal time-saver
Ingredients
8 Ball Park Tailgaters Brat Buns
Brats:
8 bratwurst
1 cup water (or 2 cups, if not using beer)
1 cup beer (optional)
Cabbage:
1 tablespoon olive oil
1/2 red onion, sliced thin
1/2 head red cabbage, sliced
1/4 head green cabbage, sliced
1/2 cup apple cider vinegar
1 tablespoon brown sugar
2 teaspoons paprika
1 teaspoon sea salt
1 teaspoon ground black pepper
1/2 teaspoon ground allspice
German or deli-style mustard
Instructions
Prick each brat with the tip of a knife a few times on each side.
In a large skillet, place brats and add water and beer to the pan to reach halfway up the sides of the brats.
Cook over medium heat for 15 to 20 minutes, turning once.
Increase heat to medium-high and cook another 5 to 10 minutes or until liquid evaporates. Remove sausages to a plate to hold.
Add olive oil, onion and red and green cabbage to the pan and stir well, cooking over medium-high heat for 3 minutes.
Add vinegar, brown sugar and seasonings, stir well and reduce heat to medium.
Cover and cook for another 5 minutes. Stir once more.
Meanwhile, warm hot dog buns in a 400-degree oven for about 10 minutes, taking care not to brown.
Spread mustard on each bun, top with a brat and spoon warm cabbage sauté on top.