Grilled Cuban Bunini Sandwich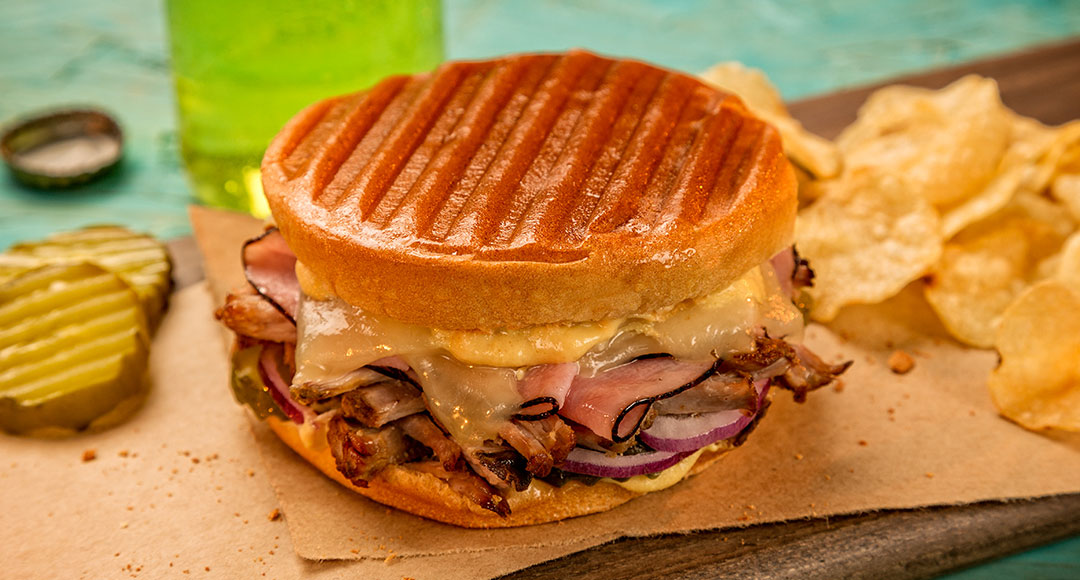 They say the key to a good Cuban sandwich is soft bread; we say Ball Park® Hamburger Buns fit the bill. If you don't have a panini press, make your sandwich in a pan on the stove, using the lid for a press.
Ingredients
4 Ball Park® Hamburger Buns
8 slices Swiss cheese
8 slices ham (preferably Black Forest)
2 cups Cuban pulled pork (recipe below)
12 slices dill
½ cup red onion, sliced
Dijon mustard
Olive oil
Cuban Pulled Pork:
3 pounds pork shoulder
1 tablespoon kosher salt
½ teaspoon garlic powder
½ teaspoon onion powder
2 teaspoons ground cumin
2 teaspoons dried oregano
1 teaspoon crushed red pepper
1 teaspoon whole black peppercorns
1 bay leaf
Zest and juice of 2 limes
Zest and juice of 2 oranges
1 yellow onion, sliced
5 whole garlic cloves
Instructions
Combine salt, garlic powder, onion powder, cumin, oregano, crushed red pepper, peppercorns, bay leaf, and lime/orange zest and juices in a bowl.
Place sliced onions and garlic cloves in the bottom of slow cooker. Top with pork shoulder and pour juice and spice mixture over the meat. Set slow cooker on low for 6 to 8 hours. When done, remove from cooker and let cool slightly. Then shred cooked pork into thick chunks.  Pour remaining juices over pork to keep warm.
Spread Dijon mustard on both sides of each hamburger bun. Then layer from bottom to top with pickles, red onions, pulled pork, sliced ham and Swiss cheese.
Brush outsides of buns with olive oil and place in panini press until cheese is melted.