Meatball Sub Sandwich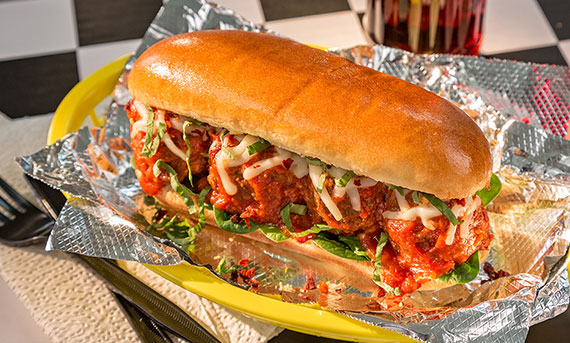 Meatball subs in soggy, falling-apart buns are just the worst. That's why we recommend toasting our Tailgaters Brat Buns for this recipe. The heftier, toasty bread will stand up to all that meaty, marinara, Mozzarella goodness.
Ingredients
5 Ball Park® Tailgaters Brat Buns
1 pound lean ground beef
¼ cup milk
1 egg
2 tablespoons grated Parmesan cheese, plus extra
1 teaspoon Italian seasoning
½ teaspoon onion powder
½ teaspoon garlic powder
Salt and pepper to taste
1 24-ounce jar marinara sauce
1 cup arugula or spinach
4 tablespoons shredded Mozzarella
Garnish: chopped basil or crushed red pepper
Instructions
Preheat oven to 425 degrees.
Toast one bun until golden brown, then place in blender and chop until fine to create crumbs.
Place the bread crumbs in a large bowl and add milk. Let soak for 5 minutes.
Add ground beef, eggs, Parmesan, Italian seasoning, onion powder, garlic powder, and salt and pepper to the bread crumb mixture and combine well.
Divide the mixture into 16 golf ball-sized meatballs, and place on an oiled baking pan.
Bake meatballs in oven for 10 minutes.
While meatballs are baking, heat marinara in a large pot over medium-high heat. Place the cooked meatballs in the marinara and simmer for 15 minutes.
Meanwhile, toast the remaining buns, then evenly distribute arugula or spinach, meatballs and Mozzarella onto each bun.
Garnish with chopped basil and/or crushed red pepper and serve.