Monterey Jerk Dog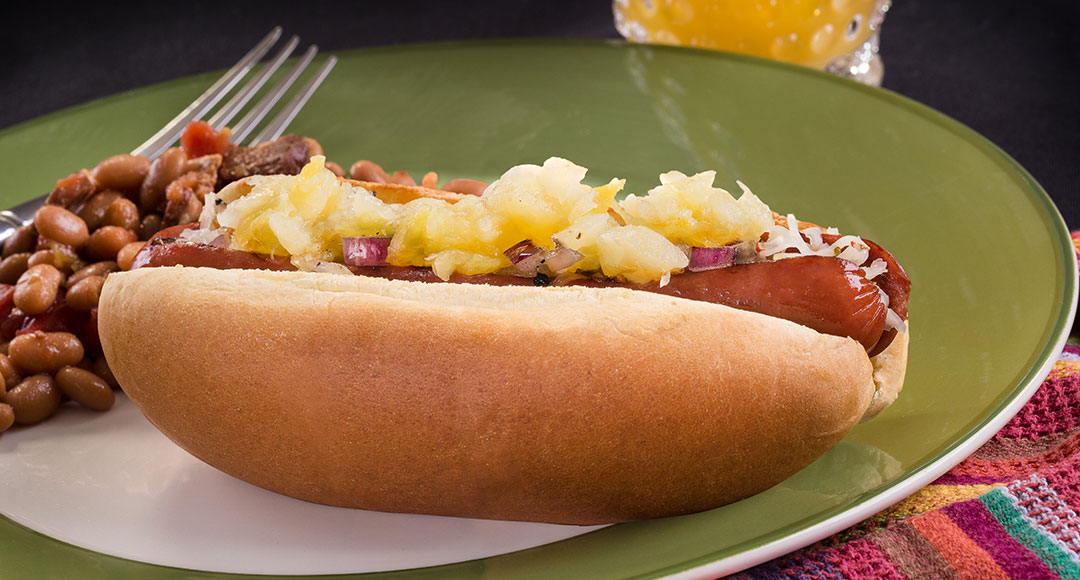 Give your next barbecue some island flavor with this Caribbean-influenced hot dog recipe, which perfectly balances the spiciness of jerk seasoning with the sweetness of caramelized onions and pineapple.
Ingredients
6 Ball Park® Original Hot Dog Buns
1/4 teaspoon garlic powder
1/2 cup mayonnaise
1 to 2 tablespoons olive oil
2 cups sweet onion, finely chopped
1 teaspoon jerk or Cajun seasoning
6 hot dogs
1/2 pound Monterey Jack cheese, shredded
4 ounces drained, crushed pineapple (optional)
Instructions
Preheat grill to medium heat.
Whisk garlic powder into mayonnaise and spread onto Ball Park® Hot Dog Buns.
Coat the bottom of a small skillet with olive oil and warm on medium heat.
Add the onion and caramelize by stirring until golden brown.
Add jerk seasoning and remove from heat.
Butterfly the hot dogs by splitting on one side, leaving the other side intact, then grill split-side down until grill marks appear (safe internal temp. 160°F).
Flip hot dogs and add the jerk onions and cheese into each split.
Open each bun and lightly toast opening-side down.
Place each hot dog into a toasted bun and add pineapple or your favorite toppings.
Refrigerate any leftovers.