Sloppy Joes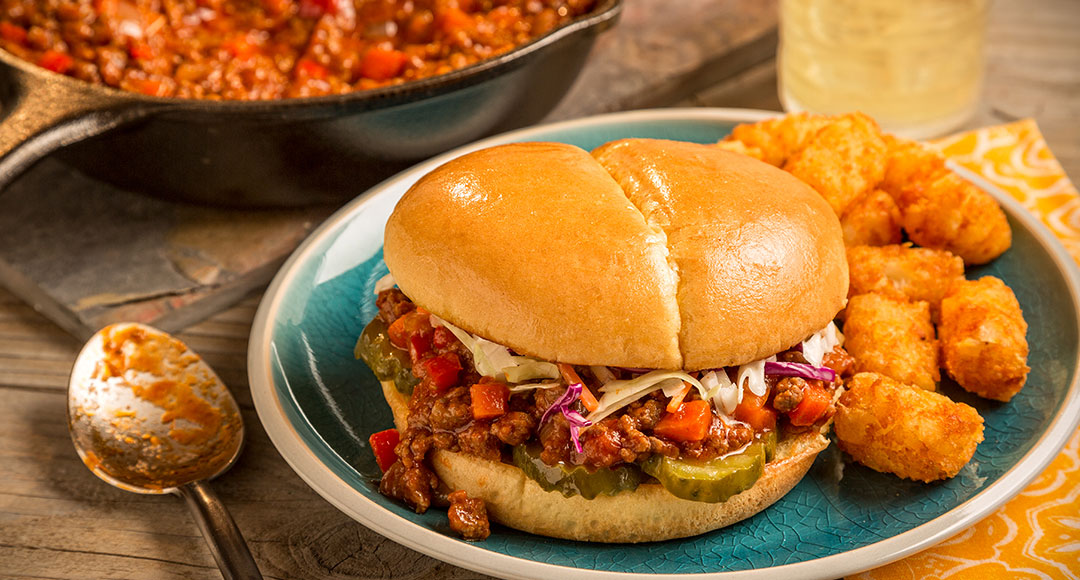 We're leveling up the traditional sloppy joe with the addition of ranch coleslaw for a symphony of messy deliciousness. Yeah, you're gonna need a bigger napkin.
Tip: Use toasted Tailgaters Gourmet Hamburger Buns to hold up to this hearty sandwich.
Ingredients
4 Ball Park® Tailgaters Gourmet Buns
1 pound lean ground beef
1 yellow onion, diced
1 tablespoon garlic, chopped
1 small carrot, diced
1 small red bell pepper, diced
¼ cup ketchup
2 cups tomato sauce
1 tablespoon Worcestershire sauce
1 tablespoon apple cider vinegar
1 tablespoon brown sugar
¼ teaspoon cayenne pepper
Salt and pepper to taste
Ranch coleslaw (recipe below)
Dill pickle slices (optional)
Ranch Coleslaw Recipe
1 cup cabbage slaw mix
3 tablespoons ranch dressing
½ teaspoon apple cider vinegar
Instructions
Preheat oven to 425 degrees.
In a large skillet, saute beef on medium heat until brown and cooked through.
Add in onions, garlic, carrots and red bell peppers and cook for 8 -10 minutes until vegetables are tender.
While vegetables are cooking, combine tomato sauce, ketchup, Worcestershire sauce, vinegar, brown sugar and cayenne pepper in a large bowl.
Add the tomato sauce mixture to saute pan and simmer for 15-20 minutes.
Add salt and pepper to taste.
To make the ranch coleslaw, combine ranch dressing and vinegar in a medium bowl.
Fold in slaw mix and set aside.
Toast buns in oven until golden brown.
Place pickles, if desired, on bottom bun. Add sloppy joe mix and top with ranch coleslaw, if desired.