Smoky Bison Burger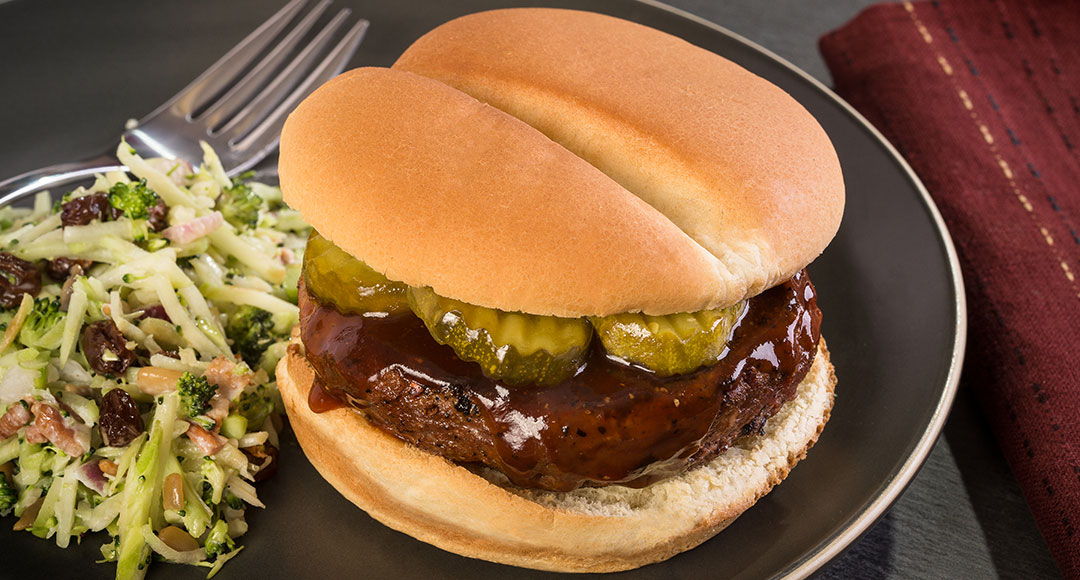 Bison (aka buffalo) meat is one of the healthiest proteins around. It has even more omega-3 fatty acids than salmon and it's lower in fat and cholesterol than boneless, skinless chicken breast. The best part? It's absolutely delicious. Topped with a smoky sauce and dill pickles, this burger is a taste of the American West. Serve pinto beans, cheesy corn casserole or steak-cut fries alongside.
Tip: Top this burger off with a smoky cheese like smoked cheddar or Gouda.
Ingredients
8 Ball Park® Tailgaters Gourmet Buns
2 tablespoons extra-virgin olive oil
Burgers:
2 pounds ground bison
1 teaspoon kosher salt
1 teaspoon sweet paprika
1 teaspoon garlic granules
1 teaspoon onion powder
1 teaspoon ground black pepper
1 tablespoon extra-virgin olive oil, divided use
Smoky BBQ Sauce:
1 cup ketchup
1 tablespoon molasses
1 tablespoon apple cider vinegar
1 tablespoon Worcestershire sauce
2 to 3 teaspoons ground chipotle chile
1 teaspoon garlic granules
1 teaspoon onion powder
1 teaspoon kosher salt
1 teaspoon ground cumin
1/2 teaspoon dry mustard
Thick-cut dill pickle slices
Hamburger trimmings, such as lettuce, tomato, onion, mustard, if desired
Instructions
To make the sauce, combine ketchup with ground chile, molasses, vinegar, Worcestershire sauce, garlic, onion powder, salt, cumin and mustard.
Whisk well and set aside.
To prepare burgers, mix the ground bison with seasonings in a large bowl.
Shape 8 patties of equal size and brush each with half of the olive oil.
In a large skillet, add reserved olive oil and heat until smoking over medium-high heat.
Cook 4 patties, covered, for 5 minutes. Turn and cook another 5 minutes, covered. (Add cheese, if desired, for the last 1 minute of cooking.)
Remove to a warm platter and cover while you cook the remaining patties.
Keeping the skillet warm, brush the buns with olive oil and toast on either side for about 10 to 15 seconds.
Assemble burgers by placing cooked patties on bun bottoms, topping with smoky sauce and pickles, along with desired burger toppings.