Texas Chili Dog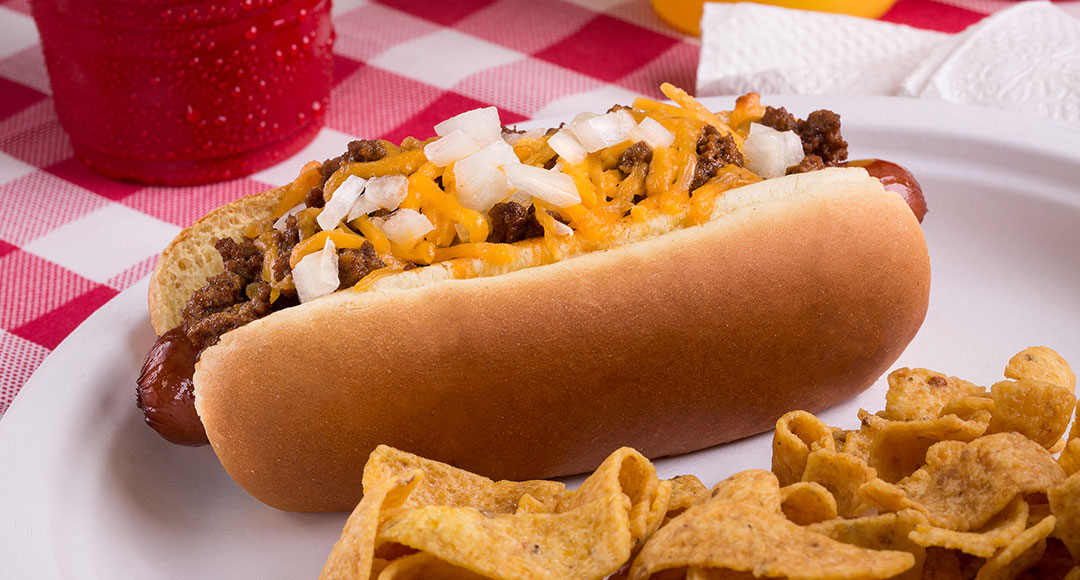 Whether you're tailgating, watching the big game at home or just planning a family movie night, this Texas Chili Dog is guaranteed to please. Delicious hot dog franks are even better when topped with hearty Texas chili, freshly grated cheese and chopped sweet onion. You can always add a few slices of jalapeno, if you like it hot. Tater tots or Fritos make the best sides.
Tip: Toasting your Ball Park® Hot Dog Buns will help them stand up to the weight of the chili without getting soggy.
Ingredients
8 hot dog franks
8 Ball Park® Hot Dog Buns
Yellow mustard
1 cup chopped yellow onion
2 cups grated Cheddar cheese
1 thinly sliced, seeded jalapeno (optional)
Chili:
1 pound ground beef
1 tablespoon vegetable oil
1/2 sweet yellow onion, chopped
1/2 red bell pepper, chopped
1 (8-ounce) can tomato sauce
1 to 2 tablespoons chili powder
2 to 3 teaspoons granulated garlic
2 to 3 teaspoons paprika
Salt and pepper to taste
Instructions
To make chili, brown ground beef in 1 tablespoon vegetable oil in a large saucepan for about 10 minutes over medium heat.
Add onion and red bell pepper, stirring well. Add tomato sauce and seasonings, stirring well.
Allow mixture to bubble for about 10 minutes, then reduce heat to simmer and cook at least 30 minutes.
To make hot dogs, cook on your grill or on a grill pan until just seared on the outside.
Meanwhile, toast buns in a 400-degree oven for about 10 minutes, taking care not to brown.
Swipe each bun with mustard, top with chili as desired, followed by grated cheese, onion and, if you're brave, jalapenos.
If you'd like the cheese all melty, place chili dogs on a foil-lined cookie sheet and run under a hot broiler for 2 to 3 minutes or until cheese bubbles.