5 Friendsgiving Recipes to Be Thankful For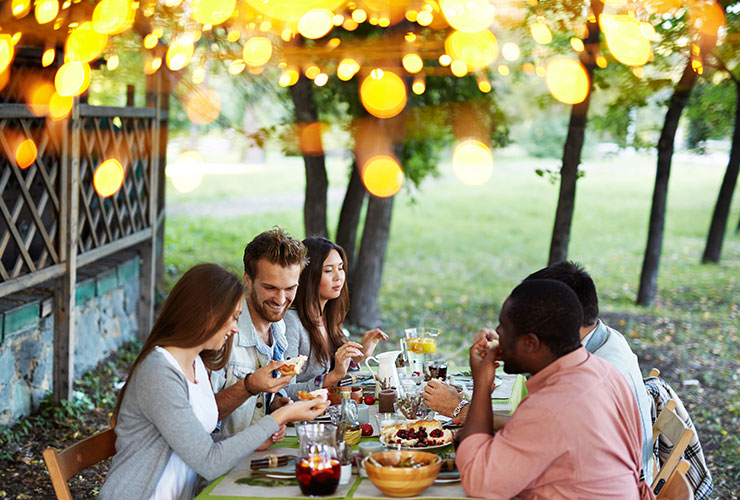 So, you've gone to your uncle's annual family Thanksgiving feast, and you brought a side dish to your company Thanksgiving dinner. Now it's time to celebrate with your friends by hosting an awesomely laid-back party with the key to their hearts: a table full of delicious food. For the ultimate Friendsgiving smorgasbord, try these recipes. Your friends will thank you later.
White Chocolate-Cherry Bread Pudding
Experiment with the mashed potatoes and there will be an uproar. But get a little crazy with the dessert and you're a culinary genius. Here's something that isn't crazy: Using one of our amazing recipes.
Simple is Best Dressing
You know that phrase, "Keep it simple, stupid"? Well, you're obviously not stupid if you're reading this blog, but definitely keep it simple by following this easy recipe for a Friendsgiving staple.
Recipe courtesy of BonAppetit.
Not Your Mama's Green Bean Casserole
Boring vegetable dishes need not apply; entice even your biggest carnivore friends with this tasty green bean masterpiece. Pro tip: Ball Park® Buns make for excellent bread crumbs.
Recipe courtesy of Food Network.
Turkey Salad Sandwich
Let's face it: Being in charge of the turkey is a daunting task. So make your life easier and transform your bird into something a bit more manageable – and when we say manageable, we mean finger food. Trust us, your friends won't mind.
Recipe courtesy of Martha Stewart.
Maple-Honey Cranberry Sauce
Cranberry sauce has always been a Thanksgiving tradition. But if you're like us, you've never really been sure how you're supposed to eat it – until now. Toast some of our buns and spread on this sweet and savory cranberry delight. Problem solved.