How to Host the Ultimate Watch Party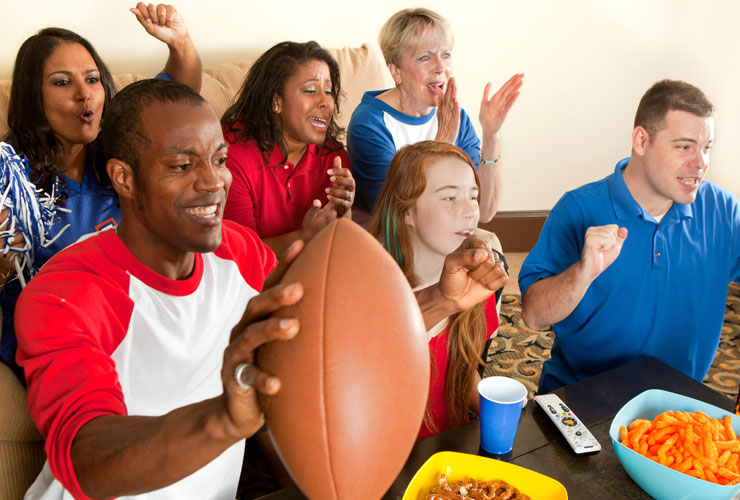 Not all watch parties are created equal. Big games call for even bigger ideas – an experience as memorable as that bone-crushing tackle or last-second heave toward the end zone. If you wanna throw a winning party, you gotta bring your A-game.
How do you do that? Glad you asked. Here are some of the best ways to ensure everyone comes out a winner on game day.
PUT YOUR SWAG ON DISPLAY.
Every watch party needs some good, old-fashioned pageantry. Fly your colors with branded flags, or get in the game by donning your team's jersey. And if you really wanna pump up your guests, queue up your university's fight song and play it each time they score. There's no wrong way to root on your team, and the possibilities are endless.
DON'T FORGET THE "WATCH" PART.
You obviously want the biggest, clearest TV available, but there or other logistical things to consider. Is the room big enough to hold all of your guests? Is the seating arrangement ideal? Will you need a second screen to show that other big game? Keep in mind that you want the game-watching experience to be as seamless as possible – so no one misses that game-changing moment.
KEEP YOUR GUESTS ENGAGED.
Believe it or not, some people just don't care about sports (weird, right?), so you'll probably want to offer alternate forms of entertainment. Options range from the classic (cornhole, washers) to the cerebral (trivia, sports-themed bingo) to the nostalgic (remember electric football?). All of which provide pregame, postgame and in-game fun that the whole party can enjoy.
SERVE THE ULTIMATE FOOD.
It's not the ultimate watch party without the ultimate spread, and it's not the ultimate spread without some Ball Park® Buns. But aside from serving up the usual burgers and dogs, you'll want a wide variety of chips, dips and various finger foods to keep your guests munchin'. If you're looking for some All-American ideas, check out what's cookin' over on our recipes page.